Having the perfect, white smile is in high demand with patients across the country. According to the American Academy of Cosmetic Dentistry, Americans spend roughly $2.75 billion on cosmetic dentistry per year. We here at, A Dental Place in Lombard, IL often recommend porcelain veneers for those wanting to make big improvements to their smile.

What Are Porcelain Veneers
Porcelain veneers are small, thin, tooth colored coverings that are shaped and sized to fit you're your existing teeth. This material is extremely strong, resists scratches and doesn't stain like your natural teeth.

Having veneers installed requires a minimum of two appointments. The first appointment we take molds of your teeth. After, the veneers are made in at a dental lab by killed technicians.

At the second appointment, the veneers are placed on your teeth. With good care, a new set of porcelain veneers can last for 20 years or longer before they need to be updated. Good care includes regular checkups, brushing, flossing, avoiding direct contact with hot beverages and eating the right foods.

How it works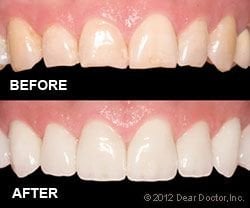 Veneers are created in a laboratory using impressions of the patient's smile that are taken by the dentist. Before the impressions can be made, the dentist must first prepare each tooth in the treatment plan to make room for the veneers.
The entire process of creating the veneers commonly takes a few weeks, after which the patient is called back in for an appointment to have them bonded.
Versatility of Porcelain Veneers
Veneers can be used to improve any of the following characteristics of your teeth:
Color — Teeth can become stained by the foods and drinks we like, from smoking, and even normal aging. Veneers are available in numerous shades, from the most natural to the brightest Hollywood white.
Size & Shape — Teeth can become worn down from grinding habits, or may not have the shape or size you want to begin with. For example, some people consider rounder teeth more feminine and squarer teeth more masculine. Veneers can be shaped and sized in whichever way is most flattering to your face.
Alignment & Spacing — Veneers can be used to close small gaps between teeth or make slight corrections in alignment while improving tooth color and shape.
A "Hollywood Smile"

When a patient requests a "Hollywood Smile" it will almost always involve porcelain veneers. With veneers a patient can get a complete smile makeover, no matter how their original teeth are shaped, spaced or colored.

For instance, if a patient has spaces between their teeth, a larger veneer covering can be made to fill in those spaces. The veneers are also colored and sculpted to perfection, to give you a smile that best fits your facial features. This is why so many Hollywood stars opt for this cosmetic procedure.
Have chipped or worn teeth?
Then call the Lombard, IL office today at (630) 620-7300
For more information or to book your appointment!